Spinnerama was released in 2002 by Christopher L. Tumber. There were no special editions of this cart, though it was released both with and without an Atari 2600 Driving Controller. There was no overlay and the cartridge came stored in a black VHS clamshell with velcro to secure the cart in place. It included a one page front and back printed manual as well as designs to build a yoke to make the Driving Controller, which plugged into port 2, and the Vectrex controller, which plugged into port 1, into one unit.
The cartridge itself is a compilation of games modified by Christopher for use with the Atari Driving Controller for direction,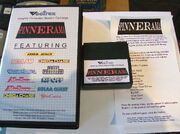 rather than the standard joystick, and included:
This package originally sold for $58 U. S., which included the 2600 Driving Controller and has long been out of print, though unmodified GCE games are available on Andrew Coleman's 72 Game Multicart.