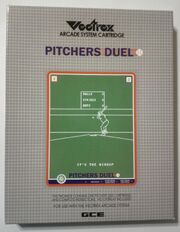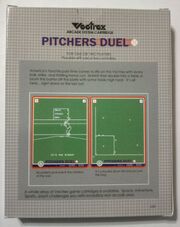 Background
Edit
Pitcher's Duel is an unreleased Vectrex sports-themed game title from the founding era of the Vectrex.
This title is the Vectrex's only baseball sports title to be released to date. While not a perfect reproduction of the game of baseball, this title is fairly accurate. A distinctive feature for this title is the inclusion of ESPN Strike Zone© style of view during the pitch.
At the start of the game Player 1 always pitches first. If a two player game is selected, then Player 2 will be at bat. Standard rules for baseball apply, however fielding, throwing and base runners are all controlled by the computer. Other features of Pitcher's Duel include a foul ball after two strikes is considered a strikeout, base runners always round the bases, if the ball beats the runner to a base then the runner is out regardless of whether there was a forceout and batters cannot be hit by a pitch.
Main Menu
Select between one or two players-button one
Select number of innings-button two
Start game-button three
In-game (offense)
Move toward/away from plate-joystick or D-pad
Show scoreboard-button one
Power swing-button three
Normal swing-button four
In-game (defense)
Change position of the ball-joystick or D-pad
Show scoreboard-button one
Knuckleball-button two
Changeup-button three
Fastball-button four
Just as in baseball, a player must round all the bases to make a run. The team who makes the most runs wins the game.
Physical Release
Edit
A prototype of Pitcher's Duel was found though a private sale and was held until a high quality release could be done. Pitcher's Duel was eventually released at Classic Gaming Expo in both a retro-styled reproduction Vectrex box and also as a loose cartridge. In both the boxed versions and as a loose cart there were two major case colors offered: gray and green (shown in the picture).
Also offered at the CGE2007 auction for charity was one boxed version containing cartridge cases in gray, red, blue, and green.
CGE Services is responsible for Pitcher's Duel's physical release, which includes Sean Kelly, Joe Santulli and John Hardie.

Community content is available under
CC-BY-SA
unless otherwise noted.