Michele Fiori is the creator of the Vectrex Wrap. He worked at a company that produced case wrap technology and was able to release a wrap for the Vectrex homebrew market.
Fiori started the Vectrex Wrap project on 15th October 2005. Two years later he announced the pending release of Vectrex Wraps in January 2007 and took orders until 4th February 2007. A Vectrex Wrap is a set of coloured vinyls of shape and size to fit evenly on the Vectrex case. These wraps are anti-bubble and with a protective surface to reduce scratches. They are easy to install and are Vectrex friendly. This allows the vinyls to be positioned on or removed from the Vectrex casing without leaving any mark or residue. Once removed they are easily reused if care is taken to protect the adhesive from dust. The Vectrex Wraps are produced from the same tough and durable material stock as used for wraps you may see used for automotive advertising.
The artwork on the vinyls uses traditional video
arcade
machine graphics and transforms t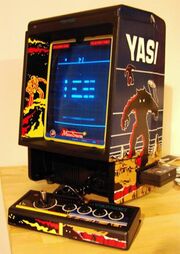 he
Vectrex
with the look of a classic video arcade machine. The final result looks like the artwork on the
Vectrex
casing is airbrushed paint work.
The Vectrex homebrew game Protector/Y*A*S*I cartridge was the inspiration for the artwork, and the traditional Williams Defender and Bally Midway Space Invaders artwork was "borrowed" for the wrap graphics.
There were two runs of the Vectrex Wraps project. The first run of wraps commenced delivery in April 2007. A total of 40 sets were made. Each set in this run was supplied with a silver sticker attached stating "limited edition" and giving a number out of 40.
The second and final run authorized by Michele and funded by Chris Romero. A total of 50 sets were produced. Second run Vectrex Wraps debuted and were sold at Classic Gaming Expo 2007. These were not limited edition but did have the distinction of being available on an uncut sheet.
Vectrex Wraps site
Community content is available under
CC-BY-SA
unless otherwise noted.