Overview
[
]
Oh no, an article about how to increase the size of your Vectrex's screen. THIS should be fun! Messing around with either a vector monitor (good luck trying to find one of those), a black and white tv (ditto), or -- God forbid -- a raster monitor (nooooo!). This is going to be technically difficult, I'll have to know all kinds of things, and it can even be flat-out dangerous, due to the possibility of suffering a bad electric shock if I were to touch the wrong thing in my Vectrex if I don't properly discharge it first!
Nope, this is in regards to none of the above, as all you'll need is a few very cheap items and a minute or two to mess around with each game (maybe not even that long) in order to enlarge the playing area of your Vectrex screen...so to speak.
Materials needed/Darrylb500's experiences
[
]
All that is needed for this little getup is a magnifying sheet, possibly tape, and something to prop up or hold the sheet with.
First off (and most important), the main thing that is needed in order to magnify the Vectrex screen is an item that is like a cross between a magnifying glass and a sheet of paper called a page magnifier or a fresnel lens. I assume these can be picked up at medical aids-type places, drug stores that carry reading glasses and/or other similar aid places, and online sites that carry them. I was just able to come across two of these (more on that later) by chance, so I don't really know myself. Doing a search for "page magnifier" on the net will result in many hits showing up though, with them usually below $8 U. S. each.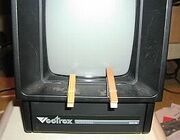 Yes, that's the main thing that is needed, since you'll place it over your Vectrex screen and ta-da!, your games will look bigger, it's (almost) as easy as that. Granted, it's not quite that simple, as you may need a piece of tape at the top to hold it on. This is what I used the first time around when I got the idea when I stol--uhhh, extensively borrowed one of these from my dad back during the Vectrex heyday (what the heck, he had several of them, so he wasn't going to miss one...I don't think). I also taped down a couple of clothespins at the bottom of my Vectrex to keep the magnifier several centimeters away to get a magnifying effect, as having it right against the Vectrex screen won't produce a visible change. Or you could use a couple of pencils that might have become too short after sharpening them too much (does anyone even use pencils any more?). And I could still flip up the magnifier so I could change out my overlays (yes, I used mine, so what?).
Then, years later as I had posted about this in a couple of forums online, I got back into this experiment when my grandfather passed on and my uncle informed us that whatever we wanted out of his and grandma's house (she had passed the year before) we could take it. I ran across a page magnifier and took it, since he didn't exactly need it any more, and that brought about my messing around with this little project again.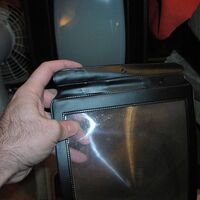 This time however, I didn't bother with any clothespins, as this magnifier has kind of a "lip" on the top of it (it might be a good idea to get one that has one), so I just placed it on the top of my Vectrex and weighed it down with a book, as it hung over right in front of the screen, no need to have it positioned at an angle and tape down any clothespins at the bottom so it won't be pressed right against the screen and therefor not magnify anything.
Now the thing is, even though this will make most of your games/the Vectrex screen look bigger for the most part (more on that in a minute), there will be some distortion as a result, usually from the top of the screen, depending on the placement of the magnifier. This will effect how some games will look. The vectors (and probably the few raster bitmapped games, like Color Clash) won't be as clear and sharp with it though, but they will look bigger for the most part. Vector trails from in-game objects happen fairly often as well, and even though I did not extensively turn down the brightness, it did not seem to help for when I did try it out (I also used overlays for most of the games too, also to no avail in toning down this problem). A "prism" kind of effect is also common at times. You also need to sit right in front of your Vectrex, as viewing it from the side will makes distortions stand out (which you probably won't do anyway, but I'm just pointing it out).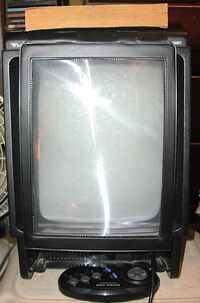 Now, most games should seem bigger in scope with the magnifier. Surprisingly though, some do not seem changed at all. Also, if the magnifier is slightly at an angle, some elements might come out seeming squashed even, such as with Berzerk or Spike. If the magnifier is at a slightly different angle when tried out more than once on a game and the magnifier gets moved, various visuals can come out looking different the second time around, as evidenced on VectrexMad!'s web site when he made a blog entry in regards to this subject and quoted me from an e-mail about a swirling effect when a level was completed on Spike Hoppin'. I was not able to replicate this effect again when I started on this write-up a few days before I initially posted this, even though I was using the same magnifier. My guess it was at a slightly different angle than when I originally tried it, so results are going to vary, along with the possibility of what the surface is like on what magnifier is used, as I assume some differ in quality (but then I'm no expert on them).
And speaking of which: with all the entries on this page, they are in regards to the cheaper magnifiers that tends to distort the graphics and such. However, Vector gaming forums member gliptitude once posted about purchasing a more expensive one at $20 (U. S.) that would magnify the screen, yet NOT distort the graphics! Once we are able to get our hands on one of these, we'll definitely be updating these entries and reflect on how the games look with one, and it's something for others to keep in mind as well if they are able to pick one of these up.
And one final note before getting to the games: make sure and sign your name in the second to last header in this piece (above Links) if you have tried this out, along with adding games if they are not in this write-up and how they turned out. There's still plenty to add!
Darrylb500 06:56, February 3, 2011 (UTC)
The games/how they rate
[
]
Contributors
[
]
Sign your name here (along with what game[s] you input) if you've added something!
Darrylb500 06:56, February 3, 2011 (UTC)
Links
[
]

This article was featured from March - April, 2011.